Docker Containers Core Concepts
Course Description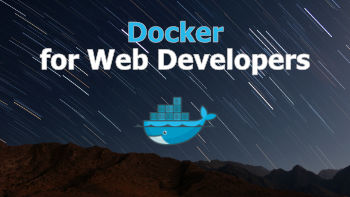 The Docker Containers Core Concepts course provides an engaging look at the Docker platform and the role it can play in your development environment and DevOps workflow. You'll learn about the many benefits that Docker provides, how you can use it in your development environment to work with web servers, databases (and more), key Docker tools and commands that you need to learn to use Docker effectively, how to work with images and containers, as well as how to get a fully functional development environment up and running both locally and in the cloud. Learn about the many benefits that Docker offers and the productivity boost it can bring to your Web development projects. The course will also provide a gentle introduction to Kubernetes and how it can be used to orchestrate containers in your enterprise.
If you've heard about Docker and been wondering what all of the hype is about then this course is for you!
This course is taught by Dan Wahlin, a member of the Docker Captains group.
Author
Dan Wahlin
Course Length
2 Days
You Will Learn
The role of Docker
How to create Docker images and containers
How and when to use volumes
How to create a custom Dockerfile
Container orchestration with Docker Compose
How to link your local source code into a running container
Key Docker tools
How to push images to Docker Hub
Integrating containers with Cloud Services
Prerequisites
Development experience is recommended as well as experience working with the command-line on Windows, Mac or Linux.
Audience
This course is designed for developers and DevOps engineers interested in integrating Docker into their development and production workflow.
Course Outline
Why Use Docker as a Developer?
Using Docker Tools
Hooking Your Source Code into a Container
Building Custom Images with Dockerfile
Managing Containers with Docker Compose
Container Orchestration with Kubernetes
Private Onsite/Online Pricing for Development Teams
Class pricing is based on the number of class days and number of students in class. We normally allow up to 24 students per class.
The course pricing includes student access to an electronic version of the course manual, lab manual, sample code and lab code. Courses can also be customized if you'd like to run a shorter or longer version of the course.
If you'd like more information on pricing or want to schedule a class for your development team please contact us and we'll be happy to provide addition details.
Contact Us
Public Classes
We don't offer public classes or one-on-one classes for individuals. For public classes we partner with
Interface Technical Training
and they offer instructor-led classes in Phoenix, AZ or online through their RemoteLive technology.
Training Courseware
Contact Us
about licensing our courseware (slides, course manual, lab manual and code) for your own training courses.